Length: 31"
Scale: 25.5"
Weight: Approximately 5.4lb
Controls: Volume, Pickup Selector, Push-Pull Tone Pot
Tuners: Patented Wine-o-matic headless bridge system
Hardshell Case: 34.5" X 12" X 4"; 9lb
Pickups:
Classic 59 'style humbucker in the bridge position with a push-pull tone pot coil tap and an alnico style single coil pickup in the neck position
The Lazer (PAT# 278,632) is developed and sold exclusively by Erlewine Guitars.
The Lazer is built to your specifications as to fret size and pickups. If you select a Legacy Edition Lazer, you also have a choice of 3 wood types (see below), or select the Original "Johnny Winter" Lazer made of mahogany. All Legacy Edition Lazers and Original Lazers have our custom-made Wine-o-matic tuning bridge. These guitars are built for you as they are ordered and include a custom case, with an approximate 6-month lead time. Contact Mark at 512-302-1225 or mark@erlewineguitars.com for more information and to place your order.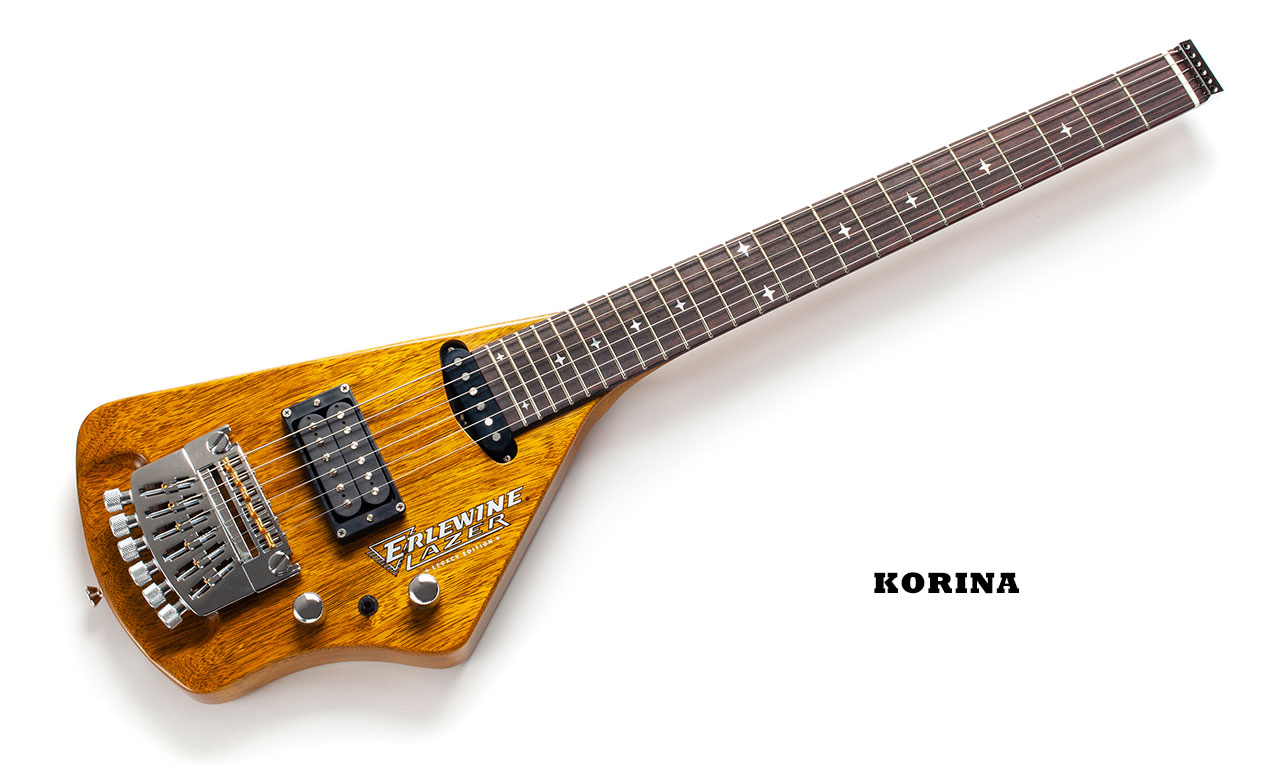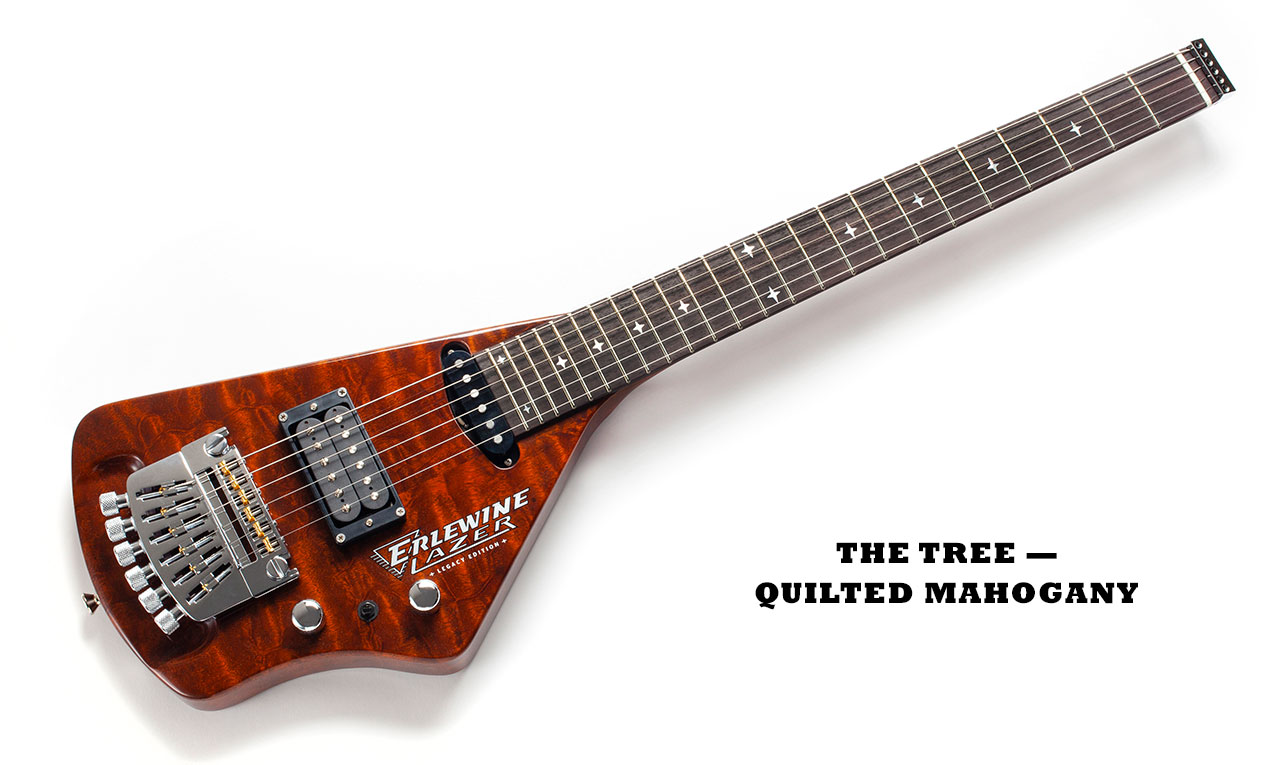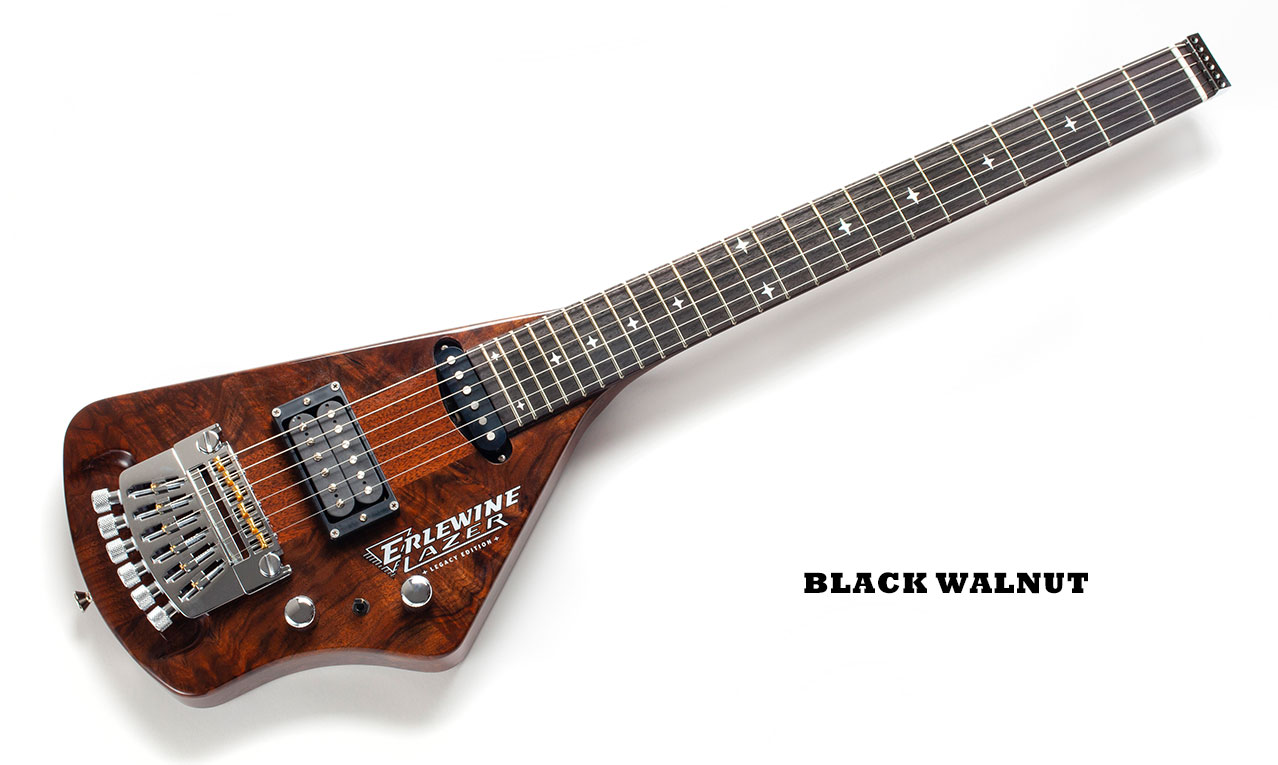 Legacy Edition Lazer Wood Options:
Korina
Mark bought some beautiful old stock korina from the wood buyer working at the Gibson factory in Kalamazoo, Michigan in the early 1970's before Gibson moved to Nashville. Although not a true mahogany, korina is very similar in tonal profile and grain. The korina from this same old Gibson stock was used to create the Flying V's of Albert King and Lonnie Mack fame. You get the classic tone of Mark's original Lazer, made with historic old growth korina, with a classic '58 gold-toned finish.
The Tree — Quilted Mahogany
In the early 1980's Mark purchased a 15' long 38" wide, 3" thick slab of fantastic quilted mahogany with an incredible story of its own. This huge old tree was found in the remote Chiquibul jungle in the Maya Mountains of Honduras in the early 1960's. Because of it's massive size and weight it wasn't possible to have it cut, rolled down the mountain, floated down a river, and milled into usable pieces until the late 1970's. 'Fine Woodworking' and several other magazines have written about the various furniture, artwork and instruments that have been made from it over the years. You can google 'The Tree, Quilted Mahogany' for more information on the incredible story of this one of a kind wood.
Black Walnut
In the late 1960's, Mark's cousin, Dan Erlewine, bought some 160 year-old black walnut wood that had been cut and stacked for seasoning back in the late 1930's. It is a beautiful deep brown walnut, with a lot of burl and figure. Guitars built out of this very same tree include Albert King's famous 'Lucy', a classic custom Strat for Jerry Garcia and a custom Tele for Otis Rush.
The Original Lazer
We are also offering custom Lazers in mahogany if you would like one built just like the custom Lazer Johnny Winter played. Available in Natural, White, Black or Red.